POWER! Outage at Scranton Chamber
Events
— By
nmilner
on March 12, 2009 at 9:24 am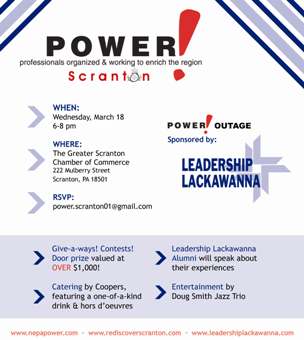 Three of the area's most active organizations in advancing Scranton's Renaissance will team up for a POWER! Outage on Wednesday, March 18, from 6-8 p.m. at the Greater Scranton Chamber of Commerce, 222 Mulberry Street, Scranton.
POWER! will team Rediscover Scranton for the event sponsored by Leadership Lackawanna. The Outage will feature catering by Cooper's, entertainment by the Doug Smith Jazz Trio, give-aways and a door prize valued at over $1,000. Leadership Lackawanna alumni will speak about their experiences with the group.
RSVP at power.scranton01@gmail.com.
Tags: Electric City, Leadership Lackawanna, POWER!, Pennsylvania, Scranton, pa, rediscover scranton
Trackbacks
Leave a Trackback