Spring Break for Autism tomorrow
Events
— By
nmilner
on March 19, 2009 at 10:20 am
The fourth annual Spring Break for Autism will be held tomorrow, March 20, at the Scranton Cultural Center from 7-11 p.m.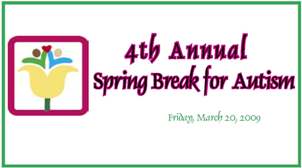 The event will be catered by Peter Cosgrove with entertainment provided by Dashboard Mary. There will be a silent auction and open bar. Spring Break for Autism benefits the Northeast Regional Autism Center at Friendship House.
And if you can't make the Spring Break for Autism tomorrow, you can still support this important cause by taking part in the inaugural Autism Telethon to be broadcast by WBRE on Saturday, April 18, from Scranton High School, 7 a.m. to 3 p.m. Sponsors, volunteers and craft vendors are needed.
Tags: Electric City, Pennsylvania, Scranton, Scranton Cultural Center, pa
Trackbacks
Leave a Trackback