Join in the Tour de Scranton
Featured
— By
nmilner
on April 15, 2009 at 11:05 am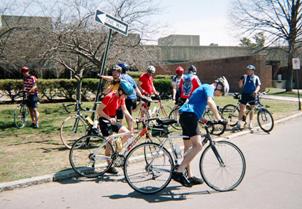 Discover your inner Lance Armstrong during the sixth Tour de Scranton, scheduled for Sunday, April 26.
The Tour de Scranton bike-a-thon benefits the Erin Jessica Moreken Drug & Alcohol Treatment Fund which helps young people find treatment for their drug and alcohol addictions. The event is an annual non-competitive bike ride for riders of every age and skill level.
Riders have a choice of five different routes:
Beginner Course – Approximately 5.5 miles; 10:30 a.m. start.
Intermediate Course – Approximately 15 miles; 10:30 a.m. start.
Advanced Course – Approximately 32 miles; 10 a.m. start.
Distance Course – Approximately 46 miles; 10 a.m. start. This course has 1,800 feet of climbing in the 25 miles to Forest City High School.
Metric Century – Approximately 65-mile loop; 10 a.m. start. Scranton to Forest City then around Elk Mt. and back to Scranton on back country roads.
Anyone can take part in the event. You can register online or download a pledge sheet and start collecting pledges. Pledges should be turned in by April 20 and riders who secure $50 or more in pledges are eligible to win a bicycle, which will be awarded at the conclusion of the ride.
Tags: Electric City, Electric City Renaissance, Pennsylvania, Scranton, pa, tour de scranton
Trackbacks
Leave a Trackback