Ruthless Issue #5 available
Downtown
— By
nmilner
on April 14, 2009 at 9:42 am
The fifth issue of Ruthless was released recently with fresh articles on Ruthless Youth events and artists from around the Electric City.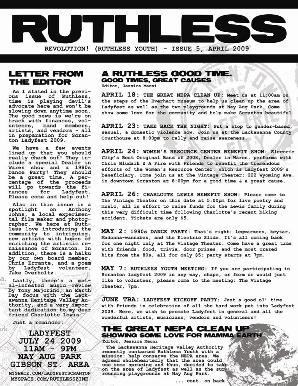 The new issue features information on the upcoming Great NEPA Clean-Up, along with poetry, a spotlight of artist Anthony Johns and the latest news on the planning of this summer's Ladyfest.
Ladyfest is scheduled for July 24, 11 a.m. to 9 p.m., at Nay Aug Park in the Gibson Street area.
Download Ruthless #5 in pdf format.
Tags: Electric City, Electric City Renaissance, Pennsylvania, Scranton, ladyfest, pa, ruthless
Trackbacks
Leave a Trackback