MAC Gallery hosting 'Pennsylvania Seasons'
Art
— By
nmilner
on May 6, 2009 at 10:56 am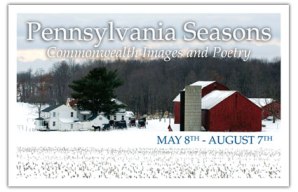 The Melberger Arts Center (MAC) Gallery, 123 Wyoming Avenue, will open a new exhibit on Friday, "Pennsylvania Seasons: Commonwealth Images and Poetry."
The exhibit of photographs by Dr. Henry F. Smith Jr. and  poetry from 52 Pennsylvania poets compiled and edited by Esther B. Davidowitz will be on display at the MAC Gallery through August 7.
An opening reception will be held Friday, May 8, from 6-8 p.m.  and will feature a Power Point presentation by Dr. Henry F. Smith Jr., book signing and poetry readings.
The MAC is hosting the exhibit in cooperation with the Schemel Forum and the Friends of the Weinberg Memorial Library, of the University of Scranton. For more information or gallery hours, visit the MAC website or call 570-499-5202.
Tags: Electric City, Melberger Arts Center, Pennsylvania, Scranton, mac gallery, pa
Trackbacks
Leave a Trackback