Photos from First Friday and the Rooftop Party
Art
— By
nmilner
on June 8, 2009 at 11:18 am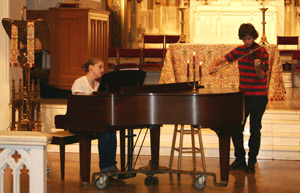 The combination of First Friday and the return of the Rooftop Party made for an entertaining Friday evening in downtown Scranton.
There was music in the air nearly everywhere you stopped – either from the Rooftop Party band, Music for Models, or from any of the numerous musical acts performing at First Friday venues around the downtown.
For a photo slideshow of First Friday and the Rooftop Party, click on the "Gallery" tab to the right.
The next First Friday will be July 3. For more information or to register as an artist or venue, visit the First Friday Scranton site.
Tags: Art, Electric City, Electric City Renaissance, First Friday, Pennsylvania, Scranton, art walk, greenbeing, pa
Trackbacks
Leave a Trackback