Close Out the Summer with First Friday
Downtown
— By
nmilner
on July 31, 2009 at 10:40 am
We're just a week away from the August First Friday art walk around downtown Scranton and it looks like the end-of-summer First Friday will be one you don't want to miss.
Twenty-six venues around the downtown are participating this month, many offering live music as part of August's jazz theme. Music scheduled this month includes Jimmy Tigue Jazz Trio at Abe's Deli, 326 North Washington Ave.; The Jerad Lippi Trio at the AFA Gallery, 514 Lackawanna Ave.; Middle Eastern Dance and Music at B's Floral Design, 131 Penn Ave.; Luke The Duke at The Electric City Tattoo Gallery, 620 Spruce St.; Rich Jenkins & Mark Woodyatt Duo at Gene & Betty's Coffee Shop, 417 Lackawanna Ave.; Doug Smith jazz trio at The MAC Gallery, 123 Wyoming Ave.; Joe Michaels and RonThomas at Northern Light Espresso Bar, 536 Spruce St.; The Mike Fahn Quartet at Outrageous, 515 Center St.; and The Jim Welch Dixieland Band at St. Luke's Church, 232 Wyoming Ave.
Two new venues are participating in the August First Friday. Wendell & Company, 214 Wyoming Ave., will be holding its grand opening next Friday and is inviting downtown visitors to stop in and see work by designer Ron Wendell. Farley's, 300 Adams Ave., will host the NEPA Tango Connection.
For more information, visit the First Friday Scranton site. Click the image for a pdf of the map.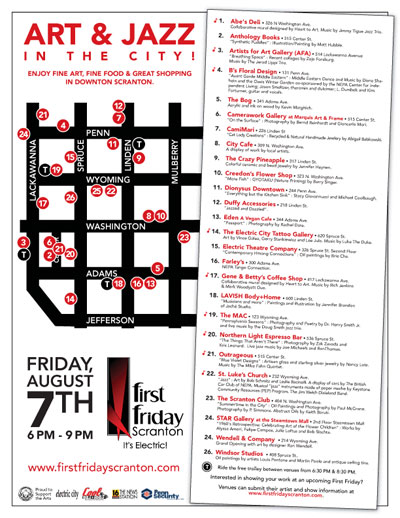 Tags: Electric City, First Friday, Pennsylvania, Scranton, art walk, pa
Trackbacks
Leave a Trackback