Pennsylvania Hands opening at Trolley Museum
Art
— By
nmilner
on July 27, 2009 at 11:32 am
This Thursday, July 30, the Electric City Trolley Museum will host an opening reception for a new photographic exhibit by Sally Wiener Grotta, "Pennsylvania Hands."
"Pennsylvania Hands" is part of "American Hands," Grotta's ongoing narrative photo project of artisans who are keeping alive the traditional functional skills, including glassblowers, spinners, potters and blacksmiths.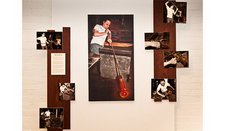 The opening reception will be held from 5:30-8 p.m. at the Trolley Museum, 300 Cliff Street, Scranton. "Pennsylvania Hands" will then be on display at the museum through Aug. 30.
Following the exhibit at the Trolley Museum, "Pennsylvania Hands" will make other appearances around Northeastern Pennsylvania at the Carbondale Public Library, Carbondale (Oct. 2 – Nov. 2); Abington Community Library, Clarks Summit (Jan. 5-31, 2010); Earnshaw Gallery, The Dietrich Theater, Tunkhannock (Feb. 1-28, 2010).
Trackbacks
Leave a Trackback