Start your Labor Day weekend with First Friday
Featured
— By
nmilner
on August 28, 2009 at 11:35 am
What better way to kick off your Labor Day weekend than with First Friday in downtown Scranton? The next First Friday is set for Friday, Sept. 4, and will provide the perfect lead-in to a weekend dominated by La Festa Italiana in Scranton.
Scranton's vegan cafe, Eden, 344 Adams Ave., will host an interesting exhibit, "Artesania indigenas del bosque de lluvia (Indigenous Rainforest Arts & Crafts)" featuring photography and artifacts from Abington Heights students in the rainforest. The Melberger Arts Center Gallery, 123 Wyoming Ave., will host a Hexagon Project display as part of Interdependence Day activities.The Vintage Theater will break in its new location at 119 Penn Ave. with the exhibit "Aquatic and Exotic" featuring paintings by Bob Schmitz and photography by Leah Donavan.
You can enjoy live music this First Friday at Northern Light Espresso Bar, 536 Spruce St., with Billy Rogan; Now Hair Studio, 132 Adams Ave., with accordionist Tony Angeli; City Cafe, 309 N. Washington Ave., with Antioch; St. Luke's Church, 232 Wyoming Ave., with live piano music by Travis Rollins and Larry Trischetta; STAR Gallery, 2nd Floor Steamtown Mall, with Musical Cafe; and on the trolley where Janice Gambo will be performing.
Click the image for a .pdf version of the map.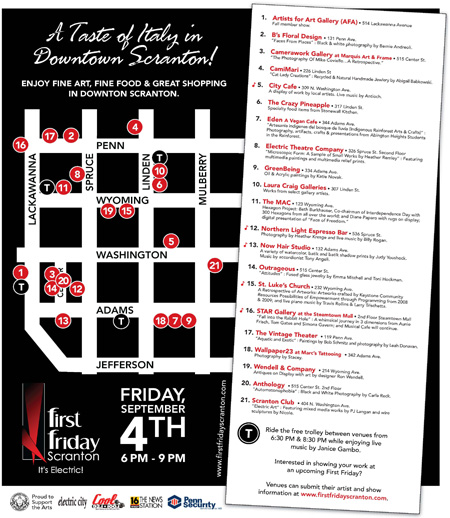 Tags: Electric City, First Friday, Northern Light, Pennsylvania, Scranton, la festa italiana, pa, vintage theater
Trackbacks
Leave a Trackback