First Friday October Packed with Venues
Downtown
— By
nmilner
on September 29, 2009 at 7:59 am
You can't tell fall has begun by looking at the line up for the First Friday Scranton art walk scheduled for this Friday, Oct. 2. It's packed with 28 venues across (and outside) downtown.
Unique for October, Duffy Accessories, 218 Linden St., will be hosting a Literary Look-alike Contest with a chance to vote for your favorite look-alike. Performing at Outrageous, 515 Center St., will be local long-form improv comedy group Here We Are In Spain at 8:00 p.m. The Electric City Tattoo Gallery, 620 Spruce St., will display a Horror Art Show for October. And St. Luke's Church, 232 Wyoming Ave., will offer pet-centric activities including a demo of pet actupuncture, a pet blessing, positively pet training and the Griffin Pond Animal Shelter on-site with pets available for adoption.
Live music will be featured at Northern Light Espresso Bar, 536 Spruce St., hosting Charles Havira; The Scranton Club, 404 N. Washington Ave., hosting the acoustic duo Sam and Pam; The Vintage Theater; 119 Penn Ave., hosting Donnie Kirchner; and Creedon's Flower Shop, 323 N. Washington Ave., hosting Coleman Smith and Roy Williams. You'll have two opportunities to catch musician Kyle Kozlanzsky during the art walk Friday. He'll be performing at Duffy Accessories from 6:30-7:30 p.m. and at CamiMari, 226 Linden St., from 7:30-8:30 p.m.
This month, downtown Scranton couldn't contain First Friday; they've burst out into two additional locations: Elm Park Parsonage, 205 Madison Ave., featuring "Shoppes and Shows," watercolors by Sarah Miller, photography by Victoria Zvirblis, Molly Shoener and Rebecca Fisk; and Covenant Presbyterian Church, Madison Avenue and Olive Street, featuring "Stained Glass Art: The Work of Louis Tiffany" and the University of Scranton Dance Team performing at 6:30 p.m. and 7:30 p.m. Free van service is available to and from Covenant Presbyterian Church.
Click on the image for a downloadable pdf and check out the full list of artists and venues for October.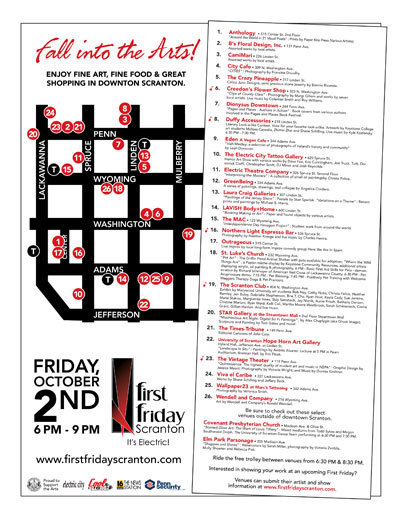 Tags: First Friday, Scranton, University of Scranton, anthology books, vintage theater
Trackbacks
Leave a Trackback