Thirty venues lined up for November First Friday
Art
— By
nmilner
on November 3, 2009 at 12:29 pm
The November First Friday art walk is nearly here and it's shaping up to be another great night of local art and music. Thirty venues are scheduled to take part in the November First Friday, set for Friday, Nov. 6, from 6-9 p.m.
New and notable this month are Aglio Restaurant, 341 N. Washington Ave., featuring watercolors by local artists; the Greater Scranton Chamber of Commerce, 222 Mulberry St., hosting works of art from talented Chamber members like Michael Straub and Laura Gleason-Ancherani and music by pianist Susan Sheerin; New Laundry, 412 Spruce St., displaying works by Jennifer Brandon; and Duffy Accessories, 218 Linden St., with "Camera for a Cure" detailing the experiences of seven-year-old Timmy Walsh in photos.
The Scranton Cultural Center, 420 N. Washington Ave., will host a Scranton-Reads-related art show and concert, "All You Need Is Love." Also, the University of Scranton Hope Horn Art Gallery, Hyland Hall, Jefferson Ave. at Linden St., will feature the exhibit "PW Costello: Designer, Engrosser, Illustrator."
If it's music you're interested in the Von Storch Jazz Trio will performa at B's Floral Design, Inc., 131 Penn Ave.; the Eulalia Jazz Quartet will be at City Cafe, 309 N. Washington Ave.; Kyle Lavery and Sasha Berghoff will perform at The Electric City Tattoo Gallery, 620 Spruce St.; Billy Rogan will play at Northern Light Espresso Bar, 536 Spruce St.; the Robert Dale Chorale Singers will perform at St. Luke's Church, 232 Wyoming Ave.; and Embassy of Rock students will put on a show at Gallucci Music, 224 Wyoming Ave.
Click the image for a pdf version of the map.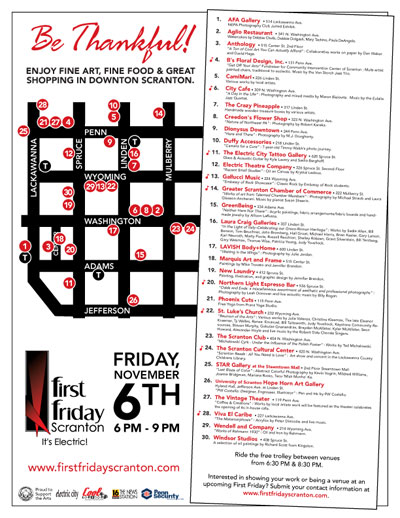 Tags: Electric City, First Friday, Pennsylvania, Scranton, Scranton Cultural Center, University of Scranton, pa
Trackbacks
Leave a Trackback