Student Art on Display during First Friday March
Featured
— By
nmilner
on March 4, 2010 at 9:42 am
The March First Friday art walk is set for Friday, March 5, from 6-9 p.m. in downtown Scranton.
This month, a number of venues will be displaying student art, including the Scranton Times-Tribune, 149 Penn Ave., with "Art For All Seasons," an exhibition by local students. Duffy Accessories, 218 Linden St., will host an exhibit titled "Mystery March," featuring art by B Curious; Duffy will also offer paintings, mixed media and photography by West Scranton Senior High Art Students Ethan Dunn, Sam Glevick, Cierra Phillips, and Jamie Reed. Scranton High School student art will be on display at GreenBeing, 334 Adams Ave., along with  live music by Jacob Cole & Friends.
Alexander's Salon & Spa, 341 Lackawanna Ave., will feature "March Into Spring" with sculpture by Dorian Butovich from Central Park Flowers; paintings by Marcelle Reinecke; photography by Tom Bonomo; and live music from Tree Room.
Northern Light Espresso Bar, 536 Spruce St., will offer an exhibit called "Invisible Monsters" with art by Kristen Leonard
and Zak Zavada, as well as live music by Rupert Wates performing on acoustic guitar.
New venue this month the Scranton Municipal Building will display an exhibit of photographs by Micheal J. Melisky, "Time Electric – Moving Perspectives: Light, Structure & Movement in the City of Scranton."
At the Scranton Cultural Center, 420 N Washington Ave., you can see "Raymond Hood at a Glance," featuring historic photography by Raymond Hood. The Colannade, 401 Jefferson Ave., will host "ChiGiri," an exhibition by Joan Mead-Matsui, along with the premiere of Electric City Television's "Living in the City" episode on the renovation of the Colonnade. Other interesting exhibits this month include "BODY + SOUL = GLADfresh," paintings by Constance Denchy and photography by Chris Woronchek at The Vintage Theater, 119 Penn Ave.; "A Proverb in the Mouth of Fools," ink, watercolor and acrylic by Beth Tyrrell at Anthology New and Used Books • 515 Center St., 2nd Fl.; paints and chessboards by Devon Demkovich at The City Dump, 222 Wyoming Ave.; and antique outboard motors from the 1950s and 1960s by Mark Hutzky at Cooper's Seafood House, 701 N Washington Ave.
Click the image for a printable pdf map.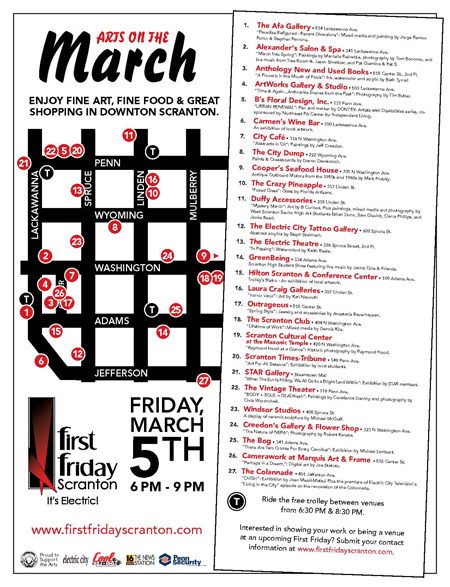 Tags: Electric City, First Friday, Scranton, anthology books, pa, scranton times
Trackbacks
Leave a Trackback