Kick Off the Summer with First Friday
Art
— By
nmilner
on June 1, 2010 at 12:02 pm
This Friday brings the First Friday Scranton art walk to downtown Scranton. Don't forget about the First Friday Art Auction scheduled for June 10; you can preview works up for auction with a preview display at the Melberger Arts Center Gallery, 123 Wyoming Ave., on Friday.
Anthology, 515 Center St., 2nd Floor, will host "Dogs with Jobs," an exhibit of Michele Broton photography which will benefit Fallen Officers Remembered. Check out Argentine Tango at Farley's, 300 Adams Ave.; and at the Hilton in PJ's Pub, 100 Adams Ave., POWER! Scranton will host a Speed Networking and Marketing event; there will also be a display of art by Michael Melisky.
New to First Friday this month are Downtown Deli, 300 Spruce St., with 3D portraits by Abington Heights High School students; Semian Real Estate Group, 400 Spruce St., with an exhibit of art and photography by Carol Gressell titled "Through My Eyes, from the City to the Beach;" the Greater Scranton Chamber of Commerce, 222 Mulberry St., with sculpture, painting and welding by artistic Chamber members and live music by the Doug Smith Jazz Duo; and Era One Source Realty, 310 Spruce St., with "Portraits of Compassion," portraits of orphaned children in Lima, Peru, by Abington Heights students, and music by Brenda Fernandes.
Music will also be available at GreenBeing, 334 Adams Ave., featuring music/world percussion by Jacob Cole; and Northern Light Espresso Bar, 536 Spruce St., featuring the Bog Swing Band.
St. Luke's Episcopal Church, 232 Wyoming Ave., will feature "Bright Lights – Big City" with paper mache King Kong and Empire State Building by Keystone Community Resources; a car display in front of the church on the 200 block of Wyoming Ave. by Villa Capri Cruisers; photography by Alvin Nurse, Tammy Marciano and Leslie Bacinelli; and live music by Rockabilies & the 45's.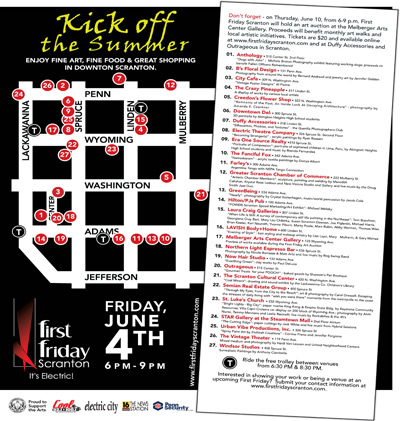 Tags: First Friday, farleys, greenbeing, hilton scranton, power scranton
Trackbacks
Leave a Trackback