First Friday Scranton Art Walk for July
Art
— By
nmilner
on July 2, 2010 at 9:26 am
Another First Friday is upon us and the Fourth of July holiday won't slow down tonight's art walk.
Twenty-four venues are participating tonight, including Anthology Books, 515 Center St., Second Floor; the Times Tribune, 149 Penn Ave.; The Crazy Pineapple, 317 Linden St.; Electric Theatre Company, 326 Spruce St., Second Floor; GreenBeing, 334 Adams Ave.; The Fanciful Fox, 342 Adams Ave.; and Urban Vibe Productions, Inc., 326 Spruce St.
The Bog, 341 Adams Ave., will host "CHOMP!" – works by Brian Langan, Elijah Birtel, Thom Lessner and Jeff Setty Hopkins, while the AFA Gallery, 518 Lackawanna Ave., offers painting, linoleum prints, sculpture and enamel by Trinka Ravaioli, Nikki Moser and Jenn Bell. ArtWorks Gallery & Studio, 503 Lackawanna Ave., will feature "Sole Food" – paintings by Earl Lehman and Leigh Pawling and student cast iron work.
Photography exhibits will be on display at Duffy Accessories, 218 Linden St., "I am Scranton" by Linda Butler; Eden, 344 Adams Ave., "FABAIC" by Rachel Lavelle; The Keys, 244 Penn Ave., "Life and The Happy Snappy" by Bobbi Warrick; and Creedon's Flower Shop, 323 N. Washington Ave., "Eclectic Visions in Photography" by Katie Larson Lick and Lucia Harkenreader.
Live music will be available at Windsor Studios, 408 Spruce St., with the Jack Mead Jazz Trio; 23. The Vintage Theater, 119 Penn Ave., with Shayfer James; Northern Light Espresso Bar, 536 Spruce St., with Paul Martin; Electric City Tattoo Gallery, 620 Spruce St., with bluegrass music by Coal Town Rounders; Gallucci Music, 224 Wyoming Ave., with open mic; and Courthouse Square where the The Bog Swing Band will be performing from 5-7 p.m.
St. Luke's Church, 232 Wyoming Ave., will offer an exhibit titled "Honoring Women of the Armed Forces" with a special prayer service at 6:30 p.m. for 2nd Lt. Carol Ann Drasba; representatives from VA Organizations,the Friends of the Forgotten NE Wing, the 55th Brigade and Rolling Thunder PA Chapter 3. Scranton/Wilkes-Barre Yankees' mascot Champ will also be on hand from 6:45-7:45 p.m.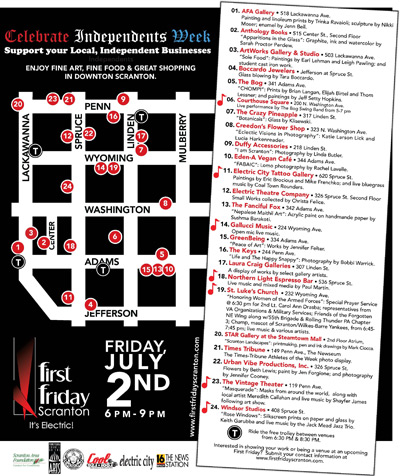 Tags: First Friday, fanciful fox, greenbeing, times tribune
Trackbacks
Leave a Trackback