First Friday Art Walk this Friday
Art
— By
nmilner
on August 3, 2010 at 12:15 pm
The August First Friday Scranton art walk is scheduled for this Friday and, this month, along with all of the great exhibits and music that you've come to expect from the art walk, Scranton Tomorrow's first Chalk and Walk will be held at select locations around the downtown.
Chalk and Walk will allow you to express yourself in chalk at the Vintage Theater, 119 Penn Avenue; Duffy Accessories, 218 Linden Avenue; PNC Flag Park, corner of Penn Avenue and Spruce Street; Courthouse Square, N. Washington Avenue; St. Luke's Episcopal Church, 232 Wyoming Avenue; and Outrageous and Anthology, 515 Center Street. There will also be children's activities by "My Gym" on Courthouse Square from 5-7 p.m.
This month's art walk will include a unique artistic raw food demonstration by Toby Landon at Eden-A Vegan Café, 344 Adams Ave.; Lotus Fire belly dancing at Exhale Hookah Lounge & Grill, 136 Wyoming Ave.; and "Sole Food," paintings by Earl Lehman at ArtWorks Gallery & Studio, 503 Lackawanna Ave. The Electric Theatre Company, 326 Spruce St. Second Floor, will host "Diagonals," painting by Casey Heyen, along with improv comedy by The Young Electrics and a film by T.J. Zale, "Butcher Boys."
Music will be featured at Electric City Tattoo Gallery, 620 Spruce St., Brian Langan; Go Lackawanna, 210 Wyoming Ave., acoustic guitar by Chris Simkonis; The Keys, 244 Penn Ave.; Outrageous, acoustic music by Drew Kelly; Saint Luke's Episcopal Church, The Jim Welch Dixieland Band; Wendell & Company Interior Design, 214 Wyoming Ave., piano by Dan Dalrymple; and at Courthouse Square where Rachel Dare will host a drum and dance gathering.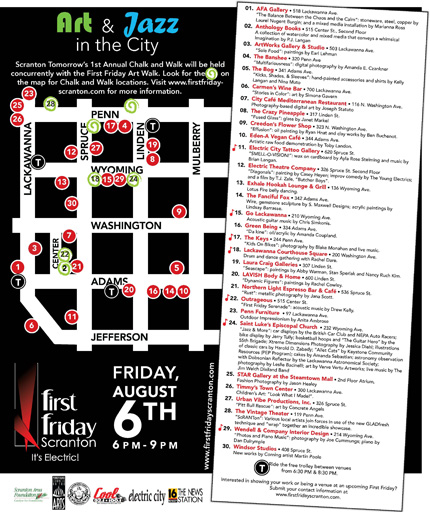 Tags: First Friday, go lackawanna, green being, outrageous
Trackbacks
Leave a Trackback